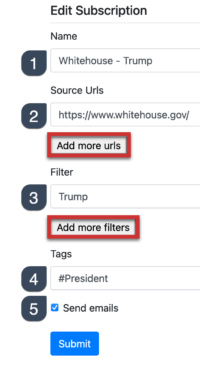 Name
Give your subscription a relevant name
Source Urls
Add one or more URL you want to monitor
Filter (optional)
Simple and powerful [read more]
Tags
Extended search criteria
Send emails
Check if you want e-mail alerts
All hits are available under "Hits" menu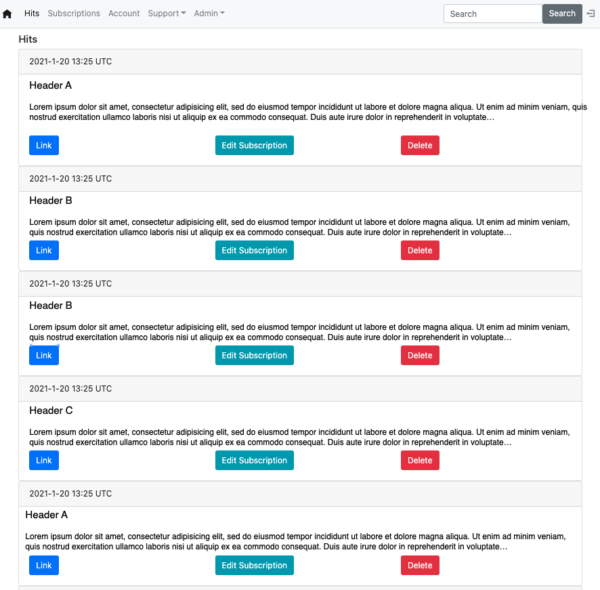 Hitlist shows hits from all subscriptions chronologically.
Header is Subscription name.
Text is the actual content.
Link takes you to the linked page.
Edit Subscription takes you to the settings for the subscription that generated the Hit.
Delete removes the Hit from Hitlist
Tip: If you want to view all Hits from a specific subscription
click Subscriptions menu, and then
click the Subscription Name you want to Hits from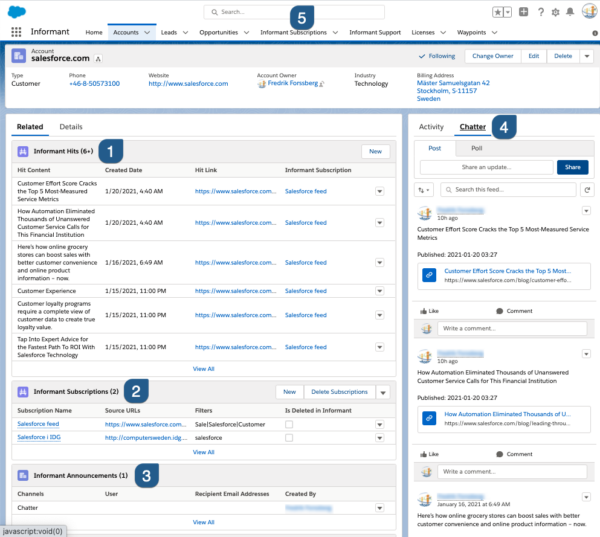 Account view
Hits, i.e. results from Subscriptions
Manage Subscription
Alert Settings, Chatter / Email
Chatter Feed with Hits
Informant Menu
Note: all of the above are optional
Hitlist includes all results from Subscriptions associated to the Account. Hits also populate Chatter-feed for users who follow the Account (see the "following" button on the top right). Hits can also be sent as e-mail. See Announcements (3).
A Subscription is a combination of one or more sources (URLs) and zero or more filter criterias. An Account can have an unlimited number of subscriptions.
Informant App is always available via the App Meny in Salesforce and can be included in your main menu (ask your Admin).